The StudBuddy Plus® improves on our famous original StudBuddy® with these great features:
Built-in plumb and horizontal level
Soft grip handle that fits great in your hand
Felt pads for a smooth glide across your walls
Inch and centimeter rulers
Standard Features & Use:
Drywall is hung to wood or metal studs using screws or nails. The StudBuddy utilizes super-strong neodymium magnets to detect those screw/nail heads as you run the stud finder across your wall. When a screw or nail head is detected, The StudBuddy "sticks" to the wall, pointing you to the exact location of these studs.
There are no batteries or moving parts to worry about. The StudBuddy is always ready to work!
Perfect for hanging cabinets, paintings, televisions, mirrors and anything else that requires sturdy mounting to wood/metal studs.
The StudBuddy is proudly manufactured in the USA.
Our company supports Hire Heroes USA and the National Breast Cancer Coalition.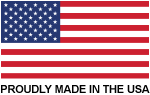 You asked and we listened! The StudBuddy Plus® includes all of the basic features of The StudBuddy while including some of the most requested features from our customers, including: Built-in plumb and horizontal bubble levels; a soft-grip handle; felt pads for an even smoother glide across your walls and inch/centimeter rulers. Just like our original StudBuddy, each product is manufactured in the USA and our company proudly supports Hire Heros USA and the National Breast Cancer Coalition.
The StudBuddy continues to be the world's simplest stud finder. Utilizing super-strong magnets, The StudBuddy sticks to the screw or nail heads used in hanging your drywall to wall studs. No batteries are needed, and we guarantee our product on all drywall applications. Simply drag the stud finder across your wall and watch in amazement as it points you to each stud. The StudBuddy is perfect for hanging shelves, cabinets, televisions and more!
Only logged in customers who have purchased this product may leave a review.